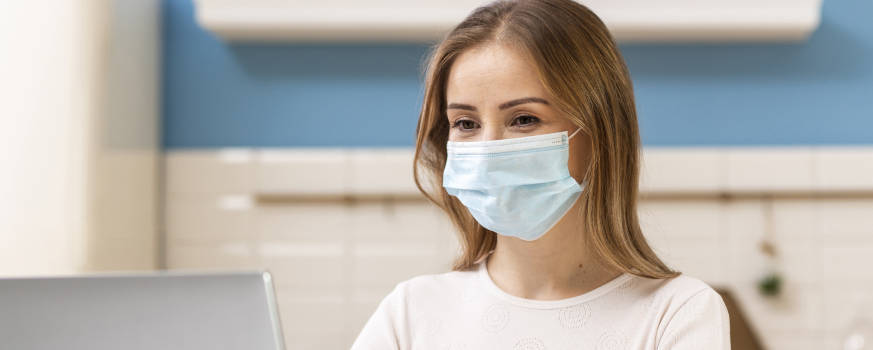 The government has announced that face masks will be mandatory in shops and supermarkets in England from 24 of July.
Over the next few days, people across the country will go on a mad dash to grab their face masks before the legislation comes into effect later this month.
Experts have studied how face masks impact the spread of COVID-19 since the World Health Organisation declared the outbreak a pandemic in March. The evidence, they say, is clear: masks can help prevent the spread of coronavirus by blocking droplets travelling between wearers – and the more people wearing face masks, the better.
Finding masks to purchase online isn't difficult – a simple search reveals countless outlets selling masks and visors in a variety of designs, materials and prices. The hard part is knowing exactly what to look for when purchasing a mask. Is it high-quality? Will it fit properly? Will the material hold? Most importantly, will it help keep me safe?
It's easy to become overwhelmed by the options available when shopping for face masks. For that reason, we've listed the key features to watch out for when looking for one – so you can make an informed decision and stay safe.
What to Look For in A Quality Face Mask
The Fabric
Naturally, the first question to ask when purchasing a mask is: what is it made from? Studies show that the material used in the production of masks has a significant impact on its protective capabilities. Thin fabrics with loose stitching aren't as effective as masks with a layered design: two layers are more effective than one, and three are more effective than two. Masks with incredibly high thread counts aren't necessarily better, however – breathability is key!
The Design
Any suitable mask must fit comfortably to cover the nose and mouth, and be somewhat snug around the edges. If the mask slips to expose the nose or mouth when speaking normally, it is too small. Some masks have respirators that allow them to become airtight. Most other masks will have small gaps at the sides when worn, but don't worry – there's a quick fix to give your mask a better fit. Watch our instructional video below to find out how you can make your mask even safer.
Disposable or Reusable
Anyone who has seen a medical drama will know what a disposable surgical mask looks like. But there are plenty of non-surgical cotton masks available to buy in stores and online. These are reusable, but they should be washed after every use in order to ensure the mask isn't carrying any droplets. Disposable masks, on the other hand, can be bought in large quantities and discarded after use. It is important to remember, however, that they cannot be recycled: government guidelines state that disposable masks should be discarded as general waste to help prevent transmission.
Medical Conditions
People with no pre-existing medical conditions should have no problem at all wearing a face mask. For wearers with respiratory problems, however, that may not be true. There are exemptions to the requirement to wear face masks on public transport in the government guidelines[1]. But for wearers suffering from asthma, for example, the trick may be to try a few masks out in order to find the right one for you.
Foggy Glasses!
Amid the coronavirus pandemic, wearing face masks has become increasingly common. In that time, many glasses wearers have been disappointed to learn that wearing a mask often causes their lenses to steam up. Luckily, there is an easy fix for bespectacled Britons. After putting on your mask, simply trap the top of your mask between your glasses frames and nose. This should prevent air escaping out of the top of the mask, leaving your lenses clear.
Masks at Ametheushealth
There are a number of factors to consider when choosing which face mask to purchase. Here at Ametheushealth, all our products are approved by the Medicines and Healthcare products Regulatory Agency (MHRA). Our certified fluid-resistant masks have a three-ply design to ensure a high level of protection for our customers.
We stake our reputation on the standard of our products, and PPE is no different. Other stores may be willing to sell sub-standard masks in order to make a quick buck, but rest assured: Ametheushealth won't.