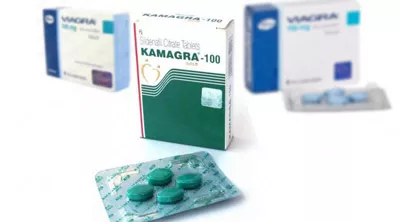 One of the top drug searches on the internet, Kamagra retains its popularity. It's a pity it's not legally sold. In fact, it's not even licensed for sale in this country. But not to worry, there is perfectly legal alternative that you have most certainly heard of: Viagra.
So what is Kamagra? Kamagra is the brand name for a form of erectile dysfunction medication. It contains the active ingredient sildenafil citrate, which is also found in Viagra. Since Kamagra is mythicised to enhance sexual performance and promises to cast a pink glow on your night, it's hard to imagine that Viagra and Kamagra are essentially the same medication. So, what is the difference between these two and how do you know your medication is the real deal?
Viagra is manufactured by US biopharma giant Pfizer. Its effect of improving blood circulation around the body has several uses, the best known of which is increasing the blood flow to the penis and therefore helping those with erectile dysfunction to achieve and maintain an erection for sexual activity. The key pharmaceutical ingredient behind this action is called sildenafil citrate, which is present in several medications and branded under different names to breach the market (and get a patent).
Ajanta Pharma Limited, a major Indian pharmaceutical company produces Kamagra. But what is sold as Kamagra is not guaranteed to be authentic. Since the medication is not considered to be safe for distribution, it is illegal to buy or sell in Britain. Any drugs claiming to be Kamagra could be counterfeit, poorly produced, contain a reduced concentration of the active ingredient, or contain something different altogether and dangerous to your health.
Sildenafil is in Viagra, Kamagra (the real one) and even sold as a generic medication predictably called Generic Sildenafil. Not only are they chemically identical as they contain the same active ingredient, they also have the same amount of it and so they and are equally effective.
However, the medications are available at different doses of sildenafil. Viagra comes in tablets of 25 mg, 50 mg, and 100 mg from which a doctor or pharmacist can choose depending on the personal circumstances of the patient in question. Although Kamagra comes in both 50mg and 100mg, it is the stronger dose that tends to be sold on the Internet. The higher strength can increase the effects of the medication, sometimes causing firm erections to last up to 36 hours, which can be harmful and uncomfortable. Also, the higher the dose of the medication, the more side effects come with it – Kamagra users have reported blurred vision and headaches. It's possible that sildenafil starts working within 15 minutes, however for most patients, you can expect the medication to start working within 30 minutes.
So, what's the difference? Kamagra vs Viagra: Buying Kamagra from an online pharmacy may appear to be a cheap alternative to Viagra Sildenafil, but is your health really worth it? Other than the price, brand names and manufacturer, the colour is easy to spot: Viagra is a blue tablet, Generic Sildenafil is (generally) white and authentic Kamagra tablets are turquoise.
But wait, now there is also Viagra Connect, how is Viagra Connect different from Kamagra and Viagra Sildenafil?
Sildenafil citrate is the active ingredient in all of the branded products Kamagra, Viagra and Viagra Connect.. As sildenafil is the unbranded version of the medicine, it is available on the market at a significantly lower price. All generic medications have to demonstrate that they are medically equivalent to their branded versions to be approved for the market. This means that they have been proven to have the same active ingredient, effectiveness, strength, stability, quality and safety as their branded counterparts. Viagra Connect, while also containing sildenafil citrate as its active ingredient, is only sold in the standard dose of 50mg. This allows Viagra Connect to have the unique feature to not need a prescription, however you should always talk to a pharmacist before taking this treatment.
The sildenafil is not the only medication available for treatment of erectile dysfunction. For those that do not find sildenafil effective or their lifestyle demands different action times, there are alternatives on the market. These include Cialis (Tadalafil), Spedra (Avanafil), and Levitra (Vardenafil), which are also PDE5 inhibitors that work in a similar way to sildenafil and are also available online in tablet form on prescription.