What is Viagra Connect?
Viagra Connect is a medication developed by Pfizer that treats symptoms of erectile dysfunction (ED) in men. The active ingredient, Sildenafil has been available for many years and it works by relaxing the blood vessels to the penis, increasing the blood flow so men are able to get and maintain an erection. It has revolutionised treatment for ED however, it has only been available as a prescription.
In March 2018, Pfizer launched Viagra Connect which was made available to purchase over the counter from a number of pharmacies across the country.
Men who wish to buy Viagra Connect will need to consult with a pharmacist first, and they will determine whether the medication is suitable for them or not by answering a few medical questions. You can also purchase it online at safe and regulated online pharmacies and the process of purchasing it is similar to buying in store but without a face to face consultation.
Why is it available over the counter?
The availability of Viagra over the counter will hopefully help men with ED find more readily available means of treatment which is convenient because ED problems affect up to 21% of men – which is the equivalent of 4.3 million men. More importantly, men are able to buy safe medication, steering them away from buying illicit medication found online with serious side effects. According to MHRA, they have seized more than £50 million of illicit and counterfeit ED medication in the last 5 years alone.
By purchasing Viagra Connect from a registered and trusted pharmacy, you are able to get accurate information about the product and provides an extra option of face-face consultation with pharmacists if you purchase in store.
The Medical Director of Pfizer, Dr Berkeley Phillips, said: "We understand some men may avoid seeking support and treatment for this condition, so we believe giving them the option to talk to a pharmacist and buy Viagra Connect could be a real step forward in encouraging more men into the healthcare system."
After the Launch of Viagra Connect
Kristie Sourial MRPharmS, Medical Manager at Pfizer said: "In the first two weeks of Viagra Connect being available, we've already seen that many men with the symptoms of erectile dysfunction are taking the step to seek help from a pharmacist, and we're excited to expand availability into more pharmacies to support men across the nation."
Since the launch, Viagra Connect has seen a steady growth, where it was selling nearly twice as many products than Viagra within the first two months, which suggests that more men were becoming more proactive at getting treatment for erectile dysfunction.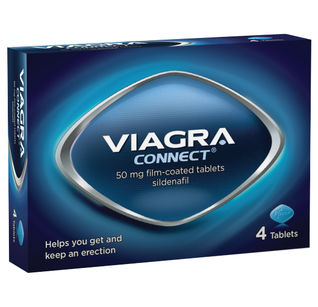 One year on and Viagra Connect has seen smashing sales selling nearly three times the number of products than Viagra since December 2018 which is great news. ED can be a debilitating condition, and symptoms can go beyond the physical symptoms. Men can feel anger, frustration and a lack of confidence so itwas important for Pfizer that men have access to fast and safe ED medication and encourage them to seek help from the healthcare system. This not only increases the awareness of ED within so men know that they don't need to suffer in silence and there are treatments readily available over the counter.
¹Kantar TNS 2010 – survey of 1,033 men – men reporting occasional & frequent difficulty getting / keeping an erection.