What are my options?
Hair loss is a very common issue in males. By the age of fifty, approximately 85% of men have significantly thinning hair. Today, there are a number of treatments available on the market to slow and counteract the onset of androgenetic alopecia. Unfortunately, there are a large number of products that claim to help with the condition, but have no clinical studies that prove their effectiveness.
To make the process of selecting the right product for you easier, we have listed below our recommendations that can stimulate and enhance your hair growth.
1. Regaine
If you are suffering from any form of hereditary hair loss, REGAINE® can help reverse the effects. It's the most popular topical hair loss medication in the world, with a market value of 880 million dollars in 2017. REGAINE® comes in both a foam and a solution version and it's the only topical hair loss treatment for men that has been clinically proven. REGAINE® works by increasing the blood supply to the hair follicles, strengthening existing hair and stimulating further hair growth.
Minoxidil was discovered during clinical trials for high blood pressure treatment. During trials, minoxidil showed signs of being able to regrow hair, stimulating and prolonging hair growth.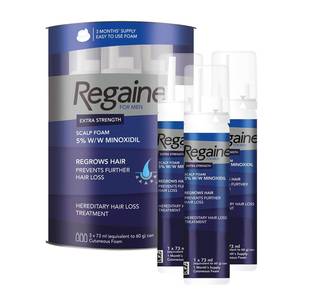 Directions for use:
Foam:

1. Wash your hands before applying Regaine foam.
2. Make sure your hair is dry and part your hair to expose your scalp.
3. Press the nozzle to dispense the topical foam while holding the can vertically.
4. Half a capful is the correct dosage per application.
5. Rub the foam into your scalp and gently massage it throughout the affected area.

Solution:

1. Wash your hands before applying Regaine solution.
2. Make sure your hair is dry and part your hair to expose your scalp.
3. Apply 1 ml of the Regaine solution twice a day, once in the morning and once in the evening.
4. Six pumps of the nozzle will dispense a 1ml application.
5. Massage the solution gently into your scalp, taking care to massage the affected areas more.
2. Finasteride
Finasteride is a non-intrusive solution to androgenetic alopecia popularly known as male pattern baldness. Unlike REGAINE®, it comes in tablet form. This gives it the added benefit of being very simple to slot into your daily life. As REGAINE® needs to be applied twice a day, finasteride is just one tablet per day.
Finasteride, a synthetic 4-azasteroid compound, is a specific inhibitor of steroid Type II 5a-reductase, an intracellular enzyme that converts the androgen testosterone into 5a-dihydrotestosterone (DHT).
Finasteride has been approved by the Medicines & Healthcare Regulatory Agency (MHRA) for the treatment of hair loss.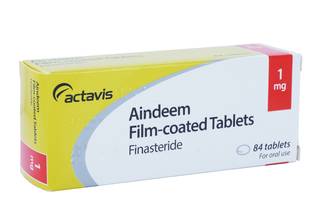 Results from clinical trials of finasteride show just how potent it can be. More than 80% of men who used finasteride in clinical trials did not experience any further hair loss. While 66% regrew hair over the course of the trial.
3. Alpecin
Alpecin is a daily topical treatment that strengthens weakened hair roots and counteracts premature hair loss, increases hair root productivity and enhances the speed of your hair growth.
The caffeine enhanced formula with Alpecin immediately provides the hair roots with the activating ingredients that help increase hair growth. Alpecin stimulates hair growth directly at the roots and the process is extremely apparent even after being left on for as little as 120 seconds.
There are three variations for Alpecin:

Alpecin C1 Caffeine Shampoo
Alpecin Caffeine Liquid Hair Energizer
Alpecin Double Effect Caffeine Shampoo

Directions for use:

1. Distribute shampoo evenly into your hands.
2. Massage into wet hair.
3. Leave for at least 120 seconds for optimal effect.
4. Rinse thoroughly.
5. Repeat if necessary.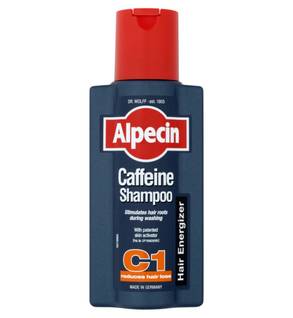 Great supplement tips:
1. Massage the scalp
Massaging the scalp can help when used in conjunction with Regaine Foam. This stimulates blood flow to the scalp, and can improve the quantity of new hair follicle growth. Taking the time to lightly massage your scalp each day can also help you relieve stress and tension, which can both cause accelerated hair loss.
2. Aloe vera
Aloe vera hydrates the scalp and conditions the hair. It can reduce dandruff and unblock hair follicles that may be blocked by excess oil. You can use shampoo and conditioner that contain aloe vera or alternatively apply pure aloe vera gel to your scalp and hair.
3. Coconut oil
Coconut oil can be used either before or after you wash your hair depending on your hair type. It contains fatty acids (primarily medium-chain triglycerides – MCTs) that penetrate inside the hair shaft and reduce protein loss. If your hair is dry, you can use it as a leave-in treatment, or if your hair tends to be oily you can leave it in overnight before washing it out in the morning.