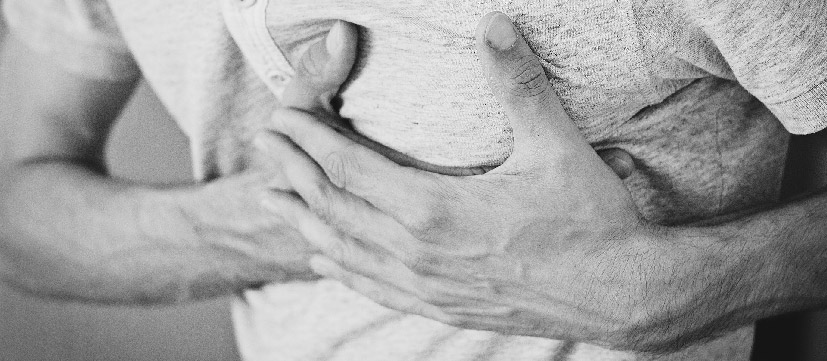 Both acid reflux and heartburn are symptoms of GORD, aka, gastro-oesophageal reflux disease, a common condition where stomach acid leaks into the gullet. This causes a burning sensation in the chest and a characteristic sour taste at the back of the throat.
It is usually caused by weakened muscles at the bottom of the oesophagus. For some, it is treatable, but for others it is a lifelong problem that has to be managed and controlled.
A Few Changes go a Long Way
Eat different foods – fatty and spicy foods increase the amount of acid created in the stomach, but protein is easy on the digestive system.
Eat less – eat smaller portions, more often, eat more slowly, pacing yourself can prevent overeating as you feel full after about 20 minutes.
Quit smoking – the smoke irritates the digestive system, creating more acid in your stomach.
Avoid triggers – which foods bring about and worsen your heartburn and acid reflux? Could include alcohol, tomatoes or tomato-based sauces, fatty foods, caffeine, spice, citrus fruits and carbonated drinks.
Maintain a healthy weight – if you are overweight, shedding some extra pounds can help the symptoms improve.
Relax – tight clothes or belts can put a lot of pressure of the stomach, so loosening them can help. Also, stress can worsen the symptoms – try to relax.
Raise the head of your bed a few centimeters (but don't pile on pillows) so that the contents of your stomach stay down while you sleep. Also, don't eat anything at least 2-3 hours before going to bed.
Aggravating vs Calming Foods
It is a good practice to have a food diary to log which foods have a negative effect on you and aggravate your symptoms, and which ones don't.
Small changes to your plate can make all the difference, as well as managing your portions. Apart from your individual triggers, here is a list of foods that can increase the symptoms of acid reflux, and some that are more calming for the stomach.
| | |
| --- | --- |
| Avoid These | Indulge in These Instead |
| Alcohol | Non-alcoholic drinks |
| Coffee – regular and decaf | Water, weak herbal teas |
| Tomatoes, onions, radishes, peppers | Potatoes, broccoli, carrots, peas, green beans, cabbage, sweet potatoes, salad leaves, lettuce |
| Citrus – oranges and lemons | Bananas, pears, melon, apples, strawberries, peaches, grapes |
| Fatty foods, ground beef, marbled meats, fried meats | Low fat foods such as white fish, low fat yogurt, cottage cheese, lean meat or poultry, egg whites |
| Spicy foods | Rice cakes, corn crisps, bread, pretzels |
| Fizzy drinks | Water – still, not sparkling |
| Chocolate | Fresh fruit – bananas, pears, apples and melon |
Delicious Dishes
Here are some recipes you can indulge in without your stomach revolting and aggravating your symptoms:
Starter: Nigel Slater's nettle and lettuce soup recipe is an excellent choice, with a few adjustments. For 4 servings, you'll need – 1 tsp of olive oil, 1 lettuce, 100g nettle leaves, 160g peas, vegetable stock 1.5 litres, and 1 small carrot.
Wash the carrots and heat the olive oil in a pan.
Cut the carrots into small pieces and stir in the pan until tender.
Heat the chicken stock and add it to the mix.
Wash and tear the lettuce and nettle leaves, add the peas, some salt and pepper to taste.
Bring to boil and leave to simmer for 7-10 minutes.
Blitz in a blender to make the soup smooth and serve.
Main Course: For a light main course, another of Nigel Slater's creations is a perfect fit. For two servings of couscous salad, you'll need – 2 large handfuls of couscous, 1 peach, ground black pepper, a handful of chicken meat, a handful of chopped chives, fresh basil leaves, olive oil, and pea shoots.
Put the couscous in a bowl with boiling water so that the grains are completely covered. Leave for 15 minutes until the couscous has absorbed the water.
Separately, season the olive oil with ground pepper and salt and pour it over the couscous. Let it soak for about 10 minutes.
Cut the peach into chunks and add them, along with the chicken and herbs to the couscous. Mix gently.
Garnish with pea shoots and serve.
Dessert: Now for the cherry on top (literally, cherries have antioxidants that can help reduce symptoms). For 10 servings, the base you'll need for the base – 50g of butter, 1tsp maple syrup, 75g oatcakes (crushed to crumbs), 40g of ground almonds. And for the topping: 2 bananas, 500g of ricotta, 150g of low fat bio yoghurt,, 4 large eggs, 2 tbsp maple syrup, 2 tsp vanilla extract, 2 tbsp ground almonds, and 140g blueberries.
Pre-heat the oven at 180C/160C fan/gas 4.
Lightly grease a non-stick cake tin.
Allow the butter and syrup to melt in a pan, then add oatcakes and almonds. Stir until well mixed.
Press the mixture into the baking tin to create the thick base for the cheesecake and bake for 10 minutes.
After the 10 minutes, remove the tin from the oven and increase the heat to 240C/220C fan/gas 9.
For the filling, mash the bananas in a bowl with a fork and add the ricotta, yoghurt, eggs, syrup, almonds and vanilla.
Beat the mixture with a wooden spoon until well-mixed and pour over the base.
Sprinkle the blueberries evenly over the filling and put back in the oven to bake for 10 minutes.
After the time has elapsed, turn down the heat to 110C/90C fan, gas ¼ and leave to cook for 30-35 minutes.
The cake should still have a slight wobble in the middle of the cake when you shake the tin. Turn off the heat and leave the cake in the oven to cool. Once set, chill, then serve.